Two One Act Plays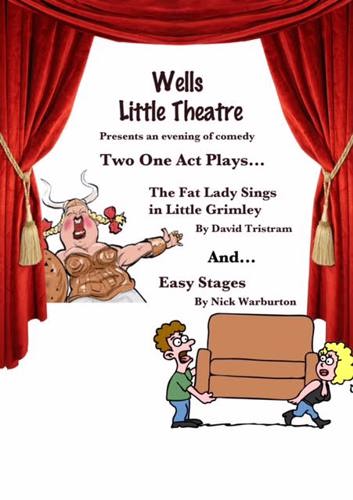 The Fat Lady Sings in Little Grimley by David Tristram
The committee of four are back to tackle yet another threat to their survival- this time in the shape of a rival amateur dramatic society , newly formed, in their village determined to upstage them with an award winning musical. The querulous quartet pull together to devise a plan that doesn't, well, go quite to plan. Could this finally be the end of their society- it isn't over till the fat lady sings.
Easy Stages by Nick Warburton
In this comedy the action focuses on the efforts of the backstage crew to play their part in an amateur dramatic society's production of Hamlet. As Gerry the stage manager observes ' moving furniture has always been a sight more difficult than moving actors' The play is a subtle parody of the backstage goings on of the society and chaos ensues.
Box office opening times
February

11th 12 - 1.30pm
14th 12 - 1.30pm
15th 7 - 8.30pm
18th 12 - 1.30pm
21th 12 - 1.30pm
22th 7 - 8.30pm
25th 12 - 1.30pm
March
2nd 6.45 - 7.30pm
3rd 6.45 - 7.30pm
4th 6.45 - 7.30pm
Show dates: 02/03/2017 - 04/03/2017
Book here