Isle of Woman
Hordern Ciani Ltd presents Isle of Woman.
Three women and a piano bring you and evening of beautiful harmonies and humour.  Think Fascinating Aida meets the Andrew Sisters on topics relevant to women the world over. Join us to decide what we should take with us on the Isle of Woman, and be part of creating a new colony of women where high heels could be a thing of the past whilst servants wait on you hand and foot!  All see through the eyes of three very different women and accompanied on the piano by yet another extraordinarily talented woman, they will have you lauging one moment and crying the next.  The show is a mix of raucous, sharp and witty comedy anthems, heartfelt songs and honest chat expressing life for women of a certain age.  It's a feel-good, uplifting evening which will see the audience leave smiling from ear to ear.  All songs are original from numerous female writers.  The show stars Nicole Faraday who played Snowball Merrimen in Bad Girls, Veronica in Emmerdale and is starring alongside Vinnie Jones in the new movie Kill Kane.
Tickets are available on the door.  To reserve tickets please contact bookings@hordernciani.com.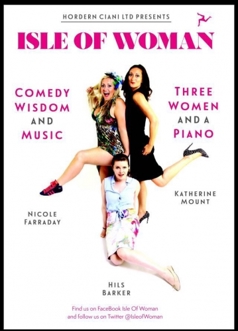 Show dates: 19/03/2016 - 20/03/2016