Alf the Highwayman
Alf the Highwayman was first devised in 2016 by Paul Lawless and Gill Simmons of Brave Bold Drama, a professional Bristol-based theatre company. All music in the show is composed by Gill Simmons.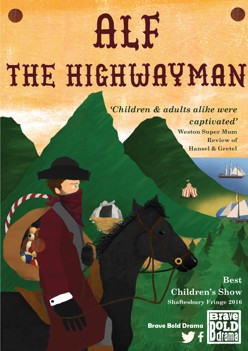 The show first toured from April to October 2016 and won the Best Children's Show award at the Shaftesbury Fringe.
The show is suitable for all ages to enjoy but is especially suitable for ages 3+.
The running time is 45 minutes and after that we open the performance space up to the audience for 20 minutes after the show ends. During the time the audience is invited to explore the stage, try on costumes and even make a paper boat to take home!
Alf the Highwayman audiences say:
"Brilliant! Funny, great audience participation, lovely storytelling."
"We really enjoyed the show! The singing and props were fantastic, so clever and imaginative. The children loved it. They were mesmerized."
"Very accessible and enjoyable for all ages."
"The best play I have ever seen! We all joined in and laughed our heads off! Everyone enjoyed it including me and I am 10."
"A very creative and simple way to explain sharing and other people's feelings."
Wednesday 31st May 11am and 2pm in the Theatre bar (unreserved seating)
Tickets:  Full £7 and Concession £5

This is a Brave Bold Drama Production
Show dates: 31/05/2017 - 31/05/2017
Book Now