Aladdin Introduction Evening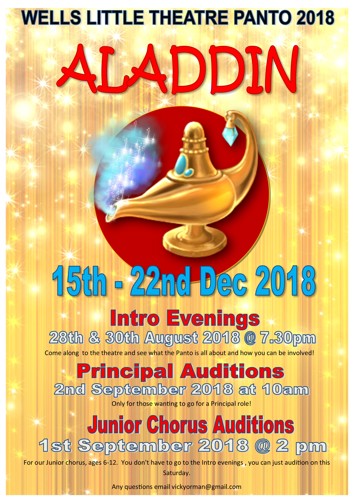 Come one, come all to our Introduction Evenings for our annual Pantomime! If you fancy strutting your stuff on stage, or helping behind the scenes or even supporting our front of house volunteers, we would love to see you on 28th & 30th August 7.30pm
Junior Chorus Audition are on the Saturday 1st of September 2018 at 2pm and Principal Auditions on Sunday 2nd September at 10am.
Here is an FAQ from our facebook page - we hope you find it useful!
1. Do I have to come to both of the readthroughs?
Nope! One is enough if you are interested in chorus. However, if you are after a Principal part, there will be time on the Thursday evening for a bit of workshopping of songs and so on.
2. I'm not interested in being on stage, but I would like to be involved. Do I have to come to a readthrough?
It would be useful if you could, just so we can get contact details, introduce you to other people and so on. But it is not compulsory! We will be asking numerous times for volunteers for things. You can always PM here, and we will add you to the contact list
3. Argh, I can't make the audition date but I really want to be in it? Can I still audition for a Principal role?
Sure (within reason!). Just email/message either Vicky or Sharon letting us know and come on the Tuesday... we will do our best, but we strongly recommend trying to be there for the actual audition day if at all possible.
4. But I'm scared of auditions! Do I have to audition to be in chorus?
Nope - it is a community panto. That being said, we still expect people to show commitment. If you are going to be missing for large chunks of rehearsal time, you may want to reconsider if you take it on. Wells Panto chorus do A LOT so are expected to turn up on time, attend all rehearsals etc etc as they do as much if not more than Principals. This time, if you miss two weeks rehearsal WITHOUT EXPLANATION we will assume you are dropping out - this applies to chorus and Principals. If we know in advance, we can rearrange things.
5. I can't come to the readthroughs, but want to be in chorus. What do I do?
Email/ Message Vicky with contact details and we will add you to the group letting you know when rehearsals are. If you don't come to the first two rehearsal calls and we don't hear from you we will assume you have changed your mind.
6. Are there lots of roles for women?
Definitely! It has specifically been written with a lot of flexibility in who can do a role.
7. Do the junior chorus people have to come to the intros? 
No, they can just come on the Saturday the 1st September 2pm for their auditions.
8. Can juniors be auditioned on a different day?
Unfortunately no.
9. When are rehearsal nights?
While Merry Wives are doing their thing, we will meet initially Tuesdays (Principals), Thursdays (Chorus) for most of September, then we will revert our usual Wednesdays (Principals) and Fridays (Principals & Chorus). However, there might be occasions when you are needed both nights. We will try and let people know who is needed and what times through our regular emailing updates. More details of that available at the readthroughs.
Juniors rehearsal day will be Saturday afternoons 2.30pm - 4.30pm, until nearer the show when they will have to do some evenings with the rest of the cast.
10. I really want to be in it...REALLY, but I'm meant to be doing this Really Important thing that means I won't be able to do one/a couple of the performances....can I be in it?
Not on stage no as it isn't fair to everyone else, but you can be a part of the show backstage/front of house and we would be eternally grateful!
11. What is the age range for Juniors?
6-12 years old. We run 2 teams for the shows so they do alternate performances…
12. But I've got a 13/14/15 year old desperate to be in it... can they be in it?
They can join adult chorus with parental permission but will be expected to attend the adult rehearsals and be treated as an adult. This means staying to 10pm and doing ALL the performances.
13. Do they need to prepare an audition piece?
No, we try and keep them relaxed - usually they are asked to sing something like Happy Birthday, and are taught a small snippet of a dance on the day. Anything needed for the audition, will be taught on the day…. Part of what we are looking for is how well they pick up things – that and the ability to smile a lot!
14. Any other advice for the junior auditions?
Please make sure your children are aware of the commitment involved - missing a lot of rehearsals due to other things is not fair on the others. If you commit to the panto, it needs to be a priority in the kids very busy social calendars!
There will be two teams of six - eight children - we often get more children so if they are unable to cope with potentially not getting in, we recommend not auditioning them.
We can only go on what they do on the day - they might be brilliant, but if they freeze up (as has happened) in front of an audience of four, they are not likely to be selected. That being said, we will give them lots of opportunities to get over their nerves. We want the experience to be fun, not terrifying!
We WILL be asking for support from parents with regard to Chaperoning. We could use some more officially licensed Chaperones with the Local Authority (if your child is into performing arts, most companies will ask you about this)
Please message me on our facebook with any other questions - if you are a first timer we can make sure someone is there to meet you if that would help!
Looking forward to seeing everyone on the 28th & 30th August!
Show dates: 28/08/2018 - 02/09/2018