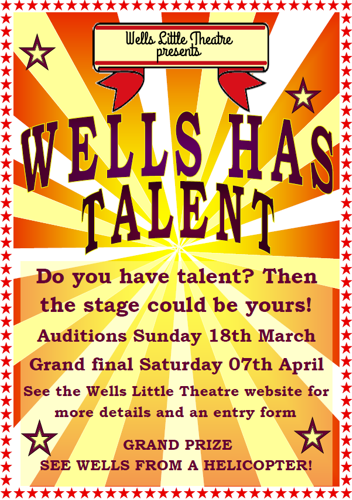 Have you a talent everyone should see? Whatever it is, come along to the Wells Little Theatre to audition for Wells Has Talent.
Auditions are on Sunday 18th March and are open to anyone, but don't wait too long - the deadline for entries is 11th March. Entry forms are available
There will be three age categories - 5-12, 13-17, 18+ and three finalists will be chosen from each category to compete in the live final. The final will take place in front on a live audience on April 07th, and guest judges will include Tessa Munt and BBC Somerset's Claire Carter.
The grand prize will be sponsored by Navy Wessex and will involve a day looking at restoration of historic Navy/RAF helicopters, including the only flying example of a Whirlwind in the world, two Wessex 5 and 2 Sea Kings in restoration. The day will end with a helicopter flight. So what are you waiting for? Come along and show everyone what you've got!
Show dates: 07/04/2018 - 07/04/2018