The Three Musketeers Introduction Evening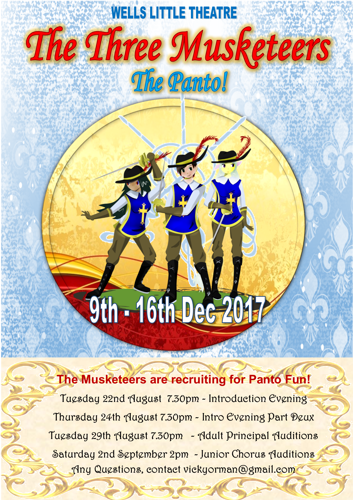 Time to buckle your swash everyone - from the talented Wells Panto team, we have another fresh and fun panto  to get together. The Musketeers need you, either on stage or backstage....we need anyone who is enthusiastic dedicated and up for a whole lot of fun!
Principals and Juniors have to audition - Adult chorus do not, but we really need chorus members who are dedicated and will be present at rehearsals and performances as they are a key part of the show and need to be reliable.
Backstage people are always needed as are front of house, (and if you can sew you are like gold dust!) so if you want to be a part of it but not on stage here is room for you too.
Auditions for Adult Principals are Tuesday 29th August 7.30pm
Auditions for Junior Chorus are Saturday 2nd September 2pm
Frequently Asked Questions
1. Do I have to audition for Adult Chorus?
No, you don't. But we will obviously need your contact details so we do need you to come along and sign up somehow.
2. What are the normal rehearsal days?
Until the Crucible is over, we will be rehearsing Tuesday and Thursdays. After that, we revert back to the more normal Wednesday and Fridays. As we get closer to the show (and panic sets in) there might be additional rehearsals, including the occasional one at weekends.
The Juniors rehearse on Saturday afternoons - however they will be required in evening rehearsals nearer the performances.

Full rehearsal schedules will be available at the introductions.
3. Uh, I have this really important thing on one of the show days...can I be in it except that performance?
You can be part of the backstage team, but not performing. You MUST be available for every performance date as the whole cast rely on each other and it is not fair on everyone else.
4. How about missing rehearsals?
Obviously in an ideal world no one would miss any! However, what we need to know is before hand and for how long, then we can organise to rehearse appropriate sections. However, if you are 'missing' without explanation for two weeks of rehearsal we are going to assume you have dropped out. If you are away, it becomes your responsibility to get up to speed  with everyone else.
5. Do I need to be a member to audition?
No, but you do need to be a member to perform on stage, so you will be asked to join asap. There are reduced membership rates for children at least who will be doing panto only.
Show dates: 22/08/2017 - 02/09/2017